Thought #1 - The Switch
Several crown designs were used throughout the 30 years of Miss Hong Kong Pageant history. The first design was used for only 2 years; the second was used from 1975-1981. When MHK 1981 Doris Loh Pui-Chi was disqualified, 1st runner-up Irene Lo got a new but smaller crown. The third design appeared in the 10th Anniversary of the pageant in 1982. The current Miss Hong Kong crown made its first debut in 1990. I found in several occasions that crowns were switched. First up, 1983. During the formal picture taking, Cher Yeung was wearing a runner-up instead of the crown she wore during pageant night. In 1986, the crowns of MHK Robin Lee and 1st runner-up May Ng were switched (maybe May Ng was really the true winner). Were the crowns switched back? I don't really know because I haven't seen the 1987 crowning ceremony on TV. **After looking at some pictures from other sites, May was wearing HER crown, so YES!!**(3/19/2003) Another recent one occurred in 1994 where 1st runner-up Annamarie Wood wore the 2nd runner-up crown and 2nd runner-up Theresa Lee had the 1st runner-up crown. Their crowns were switched back a few days later. More crown switching can also be observed in the past Miss Chinese International Pageants in 1995, 1997, and 1999. Crowns were switched back most of the time. But during MCI 2000 in Las Vegas, 2nd runner-up Anne Heung was still wearing the 1st runner-up crown she got when she crowned her successor.
A picture is worth a thousand words, so you be the judge:
1983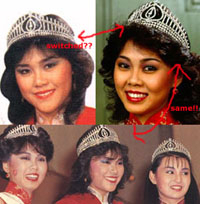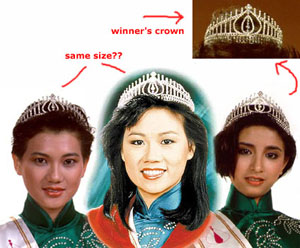 1986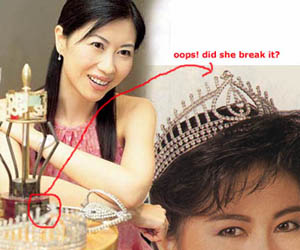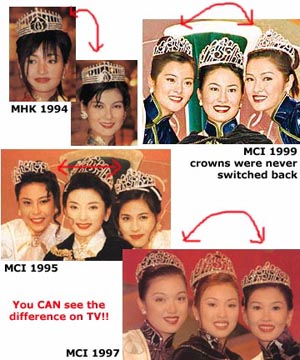 In 1997, the crowns of Vivian and Charmaine were switched. From the image
above, you can notice that one of the crowns has a bigger gap (and possibly taller in height),
is supposed to be presented to the first runner-up. Images from the prize presentations
and MHK 1998 finals showed that the crowns were switched back eventually.